Tennis Camps for the WIN!
EMPACT offers both ½ day and full-day summer camps that are chocked full of tennis skill development, learning the rules and tactics of the game, physical activity, and most importantly – FUN!
EMPACT Spring Break & Summer Camps 2023!
EMPACT is partnering with The Town of Chapel Hill Parks and Rec to offer Youth Tennis Spring Break Camps at Hargraves Community Center and Youth Tennis Summer Camps at Ephesus Park, both in Chapel Hill. 
April 3 – April 7
Options to sign up for half-day (9 am – 12 pm) or full-day (9 am – 3 pm).
9 Great Weeks of EMPACT Summer Camp at Ephesus Park in Chapel Hill.
June 12 – June 16
June 19 – June 23
June 26 – June 30
July 10 – July 14
July 17 – July 21
July 24 – July 28
July 31 – August 4
August 7 – August 11
August 14 – August 18
EMPACT offers need-based 50% or 100% scholarships for these camps through our sister non-profit organization Love To Serve Tennis Foundation.
If you want to apply for a scholarship, please fill out this form on the LTS website: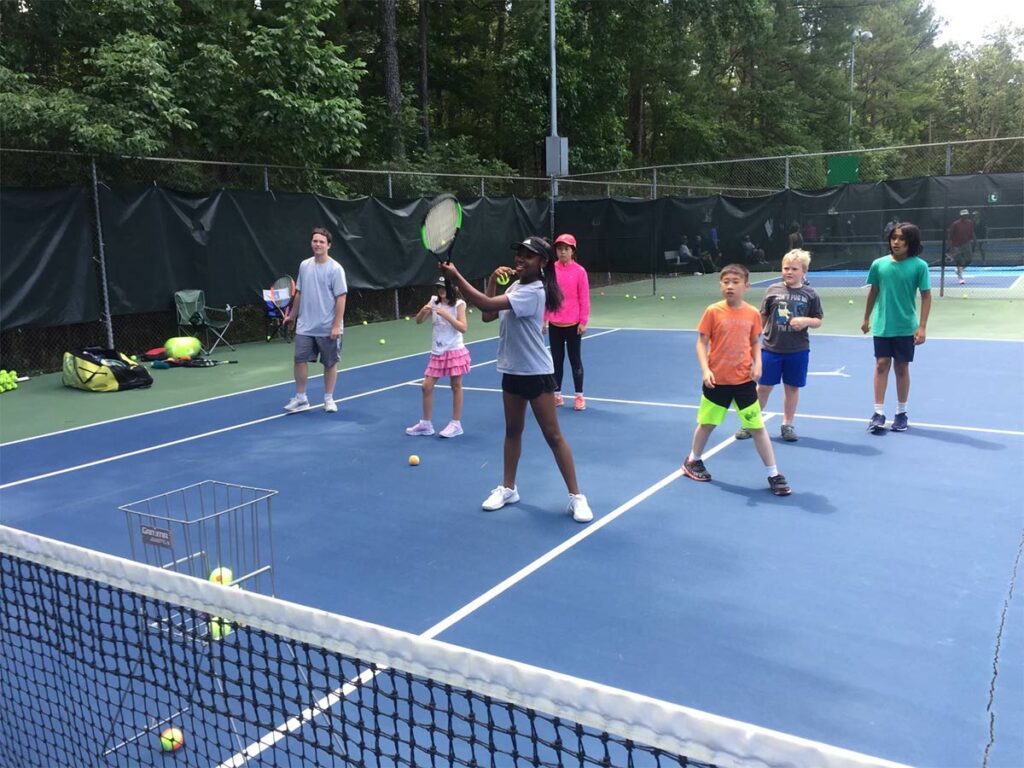 Week of fun, athletics, tennis and great games.
Have your kids join us for a week of fun, athletic development, tennis skill development, and GREAT games! A camp fit for all skill levels ages 8-14. Groups are split up by age and skill level. Each day is focused on a theme for each part of the game. Kids will hit a ton of tennis balls, using age-appropriate equipment and having fun, this is the quickest way to learn and improve their tennis game!
There is plenty down-time and fun built into the schedule with activities such as tennis-themed art, trivia, history of the game, learning how to keep score, capture the flag, snacks, lunch and plenty of breaks in the shade from the hot summer sun.
EMPACT Tennis Camps help develop basic tennis skills, improve technique, build confidence, and form friendships with a diverse group of kids.
It is important for kids to correctly learn all of the basic skills from the start, so EMPACT teaches everything from how to hold your racket to how to hit groundstrokes, volleys, and serves. Throughout the week they will practice all of these different strokes and eventually learn how to consistently rally. Working in small groups will allow your child to see improvements and allows EMPACT coaches more opportunities to help tennis campers develop their technique. As your child learns to play tennis, they will become more effective at making decisions quickly, and have opportunities to observe and practice good sportsmanship. All of these experiences will help them to build confidence, not only on the court but for the game of life! Another wonderful aspect of any camp is the opportunity to meet new friends and form relationships.
Your Tennis & Pickleball Journey Starts Here
Book your FREE Assessment
Sign up for a free lesson where you or your kiddo will meet on court with an EMPACT instructor for a getting started lesson.
Have FUN learning with EMPACT
Whether you are taking private lessons or clinics we guarantee you will learn fundamental tennis skills, improve your game, get great exercise and have FUN!
Enjoy a sport you will love for a lifetime
Racket sports are terrific means of exercise, improving your overall health, boosting your happiness, and allowing years upon years of PLAY!
Start your journey today!
Book your FREE assessment and your EMPACT pro will create lesson and clinic experiences specific to your level of play.